Disclaimer: None of our reviews are sponsored. We earn a commission when you purchase items through our links.
An Air compressor is a versatile tool that can be used for a range of different tasks such as replacing fuel filters, running nail guns, or inflating a paddling pool.
Generally, the longer you need to run your compressor, the bigger its tank should be. A good 20 gallon air compressor is suitable for demanding DIY jobs or medium-duty commercial use.
And if that's what you're looking to do and what drove you to look for the best 20 gallon air compressor on the market, you're going to find the one that suits you the most on this list.
Our Picks For You
| | | | |
| --- | --- | --- | --- |
| Air Compressor | Price | Pressure (PSI) | Weight (lbs) |
| DeWalt DXCMPA | | 155 | 166 |
| WEN 2202 | | 135 | 86 |
| Campbell Hausfeld | | 150 | 92 |
| Porter-Cable | | 150 | 97.3 |
| NorthStar Single-Stage | | 135 | 200 |
| Industrial Air IL | | 135 | 159 |
The 9 Best 20 Gallon Air Compressor
---
1. DeWalt DXCMPA1982054 – Best 20 Gallon Vertical Air Compressor
---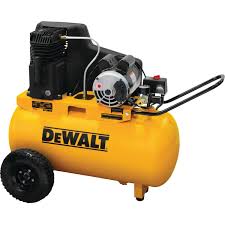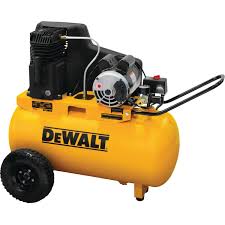 The DeWalt DXCMPA1982054 is superior to any other 20 gallon air compressor. It has a fast and quiet performance and is very durable.
It's the best choice you can make if you're going to run pneumatic tools primarily. This is because it can reach a sufficient 155 PSI maximum pressure.
Moreover, this unit comes with pneumatic tires attached to the back. This makes this 166-pound tool a lot easier to move around.
And while it's not the cheapest option that you can get, the DeWalt DXCMPA1982054 is an excellent 20-gallon air compressor for the money.
Pros
Powerful motor

Quiet performance

Fast action

Compact design
Cons
Bottom Line
Combining power, efficiency, and portable design, the DeWalt DXCMPA1982054 provides you with fantastic value for your money.
READ NEXT:
---
2. WEN 2202 – Best 20 Gallon Air Compressor For Home Garage
---
The WEN 2202 is surprisingly cheap for the features that it has to offer.
While its maximum pressure (135 PSI) isn't the highest, it's still a pretty efficient unit.
Moreover, it's a very portable option at only 86 pounds. This can very helpful for commercial use as you may need to work on different projects located at different places.
The only problem with the WEN 2202 is that it's pretty loud and takes a considerable time to refill the tank.
Pros
Great bang for your buck

Lightweight and compact design

Portability
Cons
Loud operation

Not the fastest
Bottom Line
If you're willing to sacrifice some time to save money, the WEN 2202 is the ideal choice for you. It's a very budget-friendly option that provides you with ample power and capacity.
READ NEXT:
---
3. Campbell Hausfeld DC200000 – Best 20 Gallon Air Compressor For The Money
---
The Campbell Hausfeld DC200000 is another very portable 20-gallon air compressor. Weighing around 92 pounds and coming with wheels and a handle with an extra grip, you can move it from one place to another with no hassle.
Moreover, due to its unusual shape, the Campbell Hausfeld DC200000 could come in a very compact package. This makes it even easier to transport.
But portability isn't the only advantage. This unit is also very easy to maneuver and consequently tackle many DIY projects or even some commercial work.
With a 150 PSI maximum pressure, there's no tool too tough for the Campbell Hausfeld DC200000 to power.
It'll require little to no maintenance as the pump is an oil-free one.
Pros
Highly portable

Environmentally-friendly

Suitable for both DIY projects and commercial shops

Very easy to use
Cons
Motor is not as powerful as rivals'

Horizontal design may be an inconvenience
Bottom Line
The Campbell Hausfeld DC200000 is very easy to use portable and provides you with enough pressure to take on a variety of tasks. And the best part is that it does so at a very affordable price point.
READ NEXT:
---
4. Porter-Cable PXCMF220VW – Quiet 20 Gallon Air Compressor
---
To be clear, the Porter-Cable PXCMF220VW doesn't have a top-notch quality build, but it's good for a budget 20-gallon air compressor.
With a 150 PSI maximum pressure, you can use it to run a wide variety of air tools.
Also, you should be ready for some noise.
And you shouldn't expect to run it for as long as an average 20-gallon compressor as it is prone to overheat. When it does overheat, it stops working entirely.
Moreover, the Porter-Cable PXCMF220VW is pretty portable as it weighs 97.3 pounds and comes with wheels to enable you to move it around.
Pros
Very affordable

High maximum pressure

Portable
Cons
Substandard build quality

Stops working when hot

Loud operation
Bottom Line
If you have a very limited budget and want a 20-gallon compressor that won't break the bank, the Porter-Cable PXCMF220VW is a good choice. However, you shouldn't be expecting something too fancy.
READ NEXT:
---
5. NorthStar Single-Stage – Best Horizontal Air Compressor
---
This single-stage air compressor is the best for running small air tools with maximum efficiency thanks to its consistent 135 PSI maximum pressure.
What the NorthStar Single-Stage lacks in affordability it makes up for by being reliable and working relatively quietly.
Moreover, its durability and solid construction are huge advantages that hardly any other 20-gallon air compressor comes close to.
However, it takes a tad bit too long to fill up the tank.
Pros
Durable construction

100% duty cycle

Acceptable noise levels
Cons
High price point

Noisy operation

Doesn't suit bigger tools
Bottom Line
The NorthStar Single-Stage is a good investment as its durable construction makes it last and serve you for a long time. However, it's only suitable for lighter-duty tasks and running smaller air tools.
READ NEXT:
---
6. Industrial Air IL1682066 – 20 Gallon Air Compressors
---
The Industrial Air IL1682066 combines power, reliability, quietness, and good value.
Its durable construction makes it stand sturdily and therefore doesn't produce much noise with vibration.
Moreover, the Industrial Air IL1682066 has a maximum pressure of 135 PSI, which enables you to work with many air tools.
However, the oil-lubricated mechanism makes it a little inconvenient when it comes to painting jobs.
Some people might see the high price point of the Industrial Air IL1682066 as an obstacle, but it's generally a good investment.
Pros
Very quiet operation

Powerful and reliable performance

Great value

Quality and secure

The vertical design doesn't take as much space
Cons
Expensive

Oil-lubricated pump makes it unsuitable for painting jobs
Bottom Line
If you want to run a variety of air tools with efficiency and security, the Industrial Air IL1682066 won't let you down. However, it comes at a very high price point.
---
8. California Air Tools – Cfm At 90 Psi
---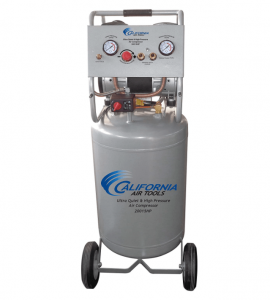 California Air Tools CAT-20015HPAD is a perfect tool for anyone looking for an incredibly quiet compressor to control all your air tools. With equipping of high pressure of 1.5 hp oil-free motor, this compressor has an improved strength and service life.
This tool also has easy to use features that make it simplified its operational process. During start-up, there is an easy-start valve on the machine that releases air from the pump. This enables a state of idling that helps to start the engine running freely on the compressor.
This needs fewer amplifiers, which makes working at colder temperatures simpler. Two meters at the top of the system are also open. A manometer is one and a controlled manometer is the other.
There is no oil in the 1.5 hp engine, this ensures that it lasts for a longer period with little or no maintenance. This is will save you money and time in general. With an oil-free motor and two-piston pump, you have 3000 hours non-stop to run the compressor. Also, at 90 PSI you get 3.80 CFM and at 40 PSI you get 4 CFM and 175 PSI is the maximum limit.
Pros
Great CFM and PSI

1.5 High Pressure

Oil-free motor and 2 piston pump

Less noise

Small Drive Amps and 3000 running hours
Cons
Bottom Line
A 1.5 HP engine that spins at 1750 RPM is equipped with this California Air Tools CAT-20015HPAD. This enables the tool to produce less noise, just like other compressors from California Air Tools, it emits just 70 decibels.
---
9. Briggs & Stratton – Oil Free Pump
---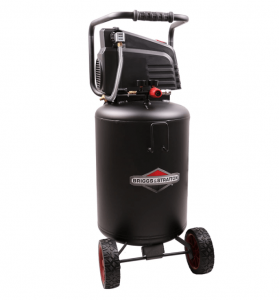 Briggs & Stratton074064-00 is another oil-free model, the design of this tool reduces the rate at which there is a need for inspections and replacements, so you can start working immediately without worrying about performance problems. It might be heavier at just 83.8 lbs than other air compressors of its categories, but it still turns out to be the better portable option.
This air tool has an intuitive handle and frame layout in the Briggs & Stratton design that not only carries the tank but also protects the working sections. This holds everything in place and paves the way for a strong building that makes all employees feel comfortable.
With the thick tires that will never burst, the frame makes transporting the tool out into the yard or workplace a fantasy. Briggs & Stratton is exceptionally put together, with no scrambling or loosening elements, whether you are dragging it around a garage or a gravel yard.
The model produces a pressure of 150 PSI and, for longer operating times, it is the right tool that can withstand such demand of air instruments. The powerful 1.5-horsepower induction motor also helps to produce even more power and provides decades after the purchase with enduring efficiency. Besides, anything else is mostly a standard of the industry. It's relatively functional and easy to use with simple access controls, airflow and gauges, and a quick-connect opening.
Pros
Light design

Easy to transport

Intuitive handles and framing

Suitable for air instrument

Oil-free model
Cons
Our Verdict
The Briggs & Stratton tool has outstanding air intake systems. Their system has a great feature of filtration and cooling.
This air tool offers a lower working temperature for the motor, which will prolong its service life. This Briggs & Stratton air tool can last for 25 to 30 years if it is properly maintained and operated.
Is A 20 Gallon Air Compressor Big Enough?
The 20 gallon air compressor provides more power than it usually is needed for a home garage. It also provides the reliability and efficiency that professionals would expect.
For use in pneumatic (air powered tool) equipment such as sandblasting, nail weapons, impact wrenches, and LVHP sprayers, this size of air compressor takes ambient air and exerts pressure under it.
They are also used in building construction, automobile factory, and workshops. They come in many shapes and sizes, and for your intended needs, it is important to get the right size.
It is also convenient to say "bigger is not big enough" when buying an air compressor. And some of the 60 and 80 gallon air compressors do not provide the required air for high-volume works such as car painting or grinder operation.
There is a need for a big air compressor without constantly waiting to charge/ refill to execute the job.
The choice of air compressor is greatly depending on the type of instrument that you plan to use with it. According to some completing bloggers, a 20 gallon air compressor is big enough to power a vehicle spray gun tool. While some other bloggers believe the same 20 gallon air compressors are not big enough to power impact wrench.
This is true if you low volume high pressure (LVHP) are used for paint sprayer head. LVHP sprayers work slower than bigger cousins. Although, they will get the work done but not as fast as might want.
A 20 gallon air compressor is big enough to execute ranges of the task but It is advisable to go for a bigger gallon air compressor if you are purchasing it for car painting tasks.
As mentioned above 20 gallon air compressor is the smallest size you can use with most compressors, and most of these air tools will still perform excellently. Although, the use of impact wrenches up to 1/2 inch with this size of air compressor might be a little difficult but it works with it. Also, the ratchet can run with a 20 gallon air compressor and 2 to 3 framing nailers can be used at once with this size. This will gives many operators to works at the same time.
So, a 20 gallon air tool is one of the best choices to purchase for the home automotive workshop. Typically, it has not only the horsepower you need but also spare air, that will allows you to perform higher volume tasks, such as die-grinder or cutting equipment.
It can also be used for small-scale painting projects, such as a side panel or a new hood. To paint an entire car without hours of practice, the 20 gallon is not big enough, as it is constantly drained to prevent water from entering the system. Such long delays make it difficult to achieve a smooth finish. This is an important job for you, so a bigger gallon air compressor is worth buying in this situation.
Is A 20-Gallon Air Compressor Suitable For Business Use?
Yes,
For industrial and commercial use, a 20 gallon is excellent. There are no regular starts and stops to allow the tank to be filled, thanks to the rate of air generated. And most time unplanned breaks are doing working activities.
A 20 gallon air compressor will be ideal for those that need a compressor that is more suitable for industrial use. This is because it can generate much higher air pressure than all smaller air compressors and it is a perfect tool for continuous working, without often stopping and starting, which is common to smaller air compressors. This makes a 20 gallon air tool suitable for industrial, business, and even stand-alone use.
Where Are Mcgraw Air Compressors Made?
McGraw air compressors are proudly manufactured from global products in the United States. They take advantage of work opportunities and take pride in crafts back to America.
The McGraw air compressors are fitted with a wonderful motor and offer optimum pressure. For easy transport, their compressors are equipped with rubber wheels and a perfect handle. Since their compressor is not only designed to solve the most daunting tasks quickly, it is also designed to have a long service life for users.
How to Pick a Good 20-Gallon Air Compressor?
Whatever the size of your tank is, there are some critical aspects that you should take into consideration when you're picking an air compressor. And here are the most important ones:
PSI
The pressure that an air compressor is capable of is measured in PSI (Pressure per Square Inch), and this number will let you know with what air tools you can work.
And the higher the number, the stronger the pressure will be and consequently the heavier-duty jobs you'll be able to tackle.
But generally, the most important thing is to match the pressure of your compressor to the specific air tools you want to run. Otherwise, your tools won't run as efficiently.
Oil-lubricated vs. Oil-free
Oil-free air compressors generally have low running costs because they spare you the need to buy oil. They're also easier to handle as they don't require as much maintenance.
However, they're not as powerful as oil-lubricated ones and not nearly as durable.
Noise
Noise levels are important because you don't want to get a headache every time you operate your tool.
A tool with 80 dB or less would be good enough to provide you with solid performance without causing too much commotion.
Easy Tank Drain
Draining your compressor's tank is an essential part of extending its lifespan and durability. So the easier it is to do it, the more you'll properly maintain your unit, and therefore, the longer it will last.
How to Drain a 20-Gallon Air Compressor?
1. Switch off your compressor and unplug it from the power source.
2. Eliminate the internal pressure by pulling the tank's safety valve to release all the pressurized air inside.
3. Locate the tank's drain valve. Typically, you'll find it at the bottom of the tank.
4. Open the drain valve and make sure you get all the moisture out.
How Long Can a Tank of a 20 Gallon Air Compressor Last?
Generally, air compressors have a long life. So from an average unit, you should get around 40,000 to 60,000 hours of work.
It depends on how frequently you use your unit, but it can last anywhere from 20 to 30 years.
Final Thoughts
Still not sure which of these is the best 20 gallon air compressor? Think of the tools you want to power with your compressor and what projects you want to tackle.
I'd recommend the DeWalt DXCMPA1982054 for the ideal combination of power, reliability, and portability. Although it's not the most affordable, it provides you with a fantastic return on investment.
For a more affordable choice, you can go for the Campbell Hausfeld DC200000 as it's powerful, has high-pressure levels, and is very compact.
But for the best budget-friendly option that still offers portability and a lightweight and compact design, you should go for the WEN 2202.