* If you click a link on this page and make a purchase, we may receive a small commission at no extra cost to you. Learn more.
Due to their specific and intricate jobs, finding a good pin nailer can be a little confusing at first.
And this is exactly why I've gone through various models and created this list of the best pin nailers you'll find on the market, comparing their pros and cons.
Without further ado, let's delve into it!
Our Top Picks
| Air Compressor | Capacity | Lbs |
| --- | --- | --- |
| Porter-Cable PCC790LA | 100 | 5.9 |
| Bostitch F21PL | 60 | 8.1 |
| Freeman PFBC940 | N/A | 4 |
| Ryobi P320 | 1700 | 6 |
| Neu Master NTC0040 | 5.2 | 18 |
| Craftsman C3 | N/A | 6 |
| DeWalt DC618K XRP | 120 | 8.5 |
The 7 Best Pin Nailer
---
1. Porter-Cable PCC790LA Cordless Nailer Kit
---
The PORTER-CABLE PCC790LA is 100% battery-powered; it completely removes the need for a compressor or a hose. The PCC790LA is cordless which is a lot more convenient if you're moving around too much, or if you just can't be bothered with the compressor. Also, the PCC790LA's battery is a Lithium-Ion battery; it can last you a long time, and it comes with a charger.
It provides consistent nail depth. Besides, it's adjustable, and it comes with LED lights, which can be very helpful.
Its fastener length capacity is 5/8" – 2", magazine capacity is 100, and the nail diameter is 18 gauge. It is considered a little heavy. However, it is not too heavy and can easily be used the whole day without wearing you out too much.
The PCC790LA is easy to use; however, it can take some time to get used to it, especially that there's a slight delay after pulling the trigger for the nail to get fired.
You need to be careful when purchasing the PCC790LA as it is bulky and cannot fit into tighter areas.
Regarding safety, the PCC790LA has a safety lock for the power button, and it is quite safe to use if the safety procedures are followed.
Pros
Battery-powered.

Consistent and adjustable nail depth.
Cons
Bottom Line:
It works well for woodworking and molding. Mostly convenient to household chores. On the other hand, due to the delay between pulling the trigger and the shooting, the PCC790LA is not the best option for construction work as that delay can slow you down a bit.
READ NEXT: Brad Nailer
---
2. Bostitch F21PL Framing Nailer
---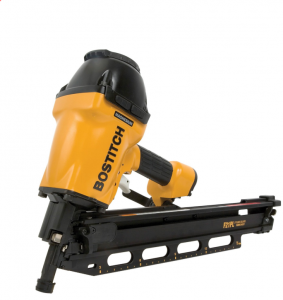 The BOSTITCH F21PL is special for allowing two nails in one; it enables quick-change nosepieces to convert from framing to metal-connector nails quickly.
The F21PL's fastener length capacity is 1 ½ inch to 3 ½ inches. Magazine capacity goes up to 60 plastic collated 21-degree framing nails (2.0-3.5 inches) or 60 metal connector nails (1.5-2.5 inches).
It weighs 4.17 pounds, which is considered lightweight for a nailer. The depth of the nail is easy to control with just a button to choose your desired depth.
Besides, it is very accurate. It is made of magnesium, which is a massive contribution to the F21PL's durability and lightweight body. Besides, it has a rubber grip for a strong, controlled grip.
On the other hand, one of the downsides of the F21PL is that it doesn't lock the firing when it is out of nails, this can be a bother, especially if you don't pay attention to when the nails are almost all out.
However, there's a possibility that the F21PL will jam when in use, especially when using it for the metal-connector, but that is not very likely. Just to be safe, start at lower pressure and work your way up, and keep an eye out for any possible jamming.
Pros
Two nails in one.

Durable.
Cons
Firing doesn't lock when the magazine is empty.
Bottom Line:
The F21PL is excellent for framing, installing metal hangers, subflooring, and bracing. It is durable, easy to use, and the depth is adjustable.
READ NEXT: Cordless Finish Nailer
---
3. Freeman PFBC940 Pneumatic Flooring Nailer and Stapler
---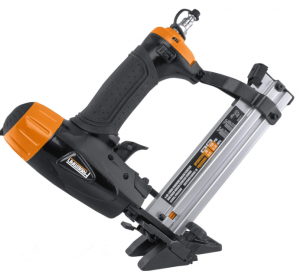 The Freeman PFBC940 is a pneumatic flooring nailer and stapler. It is made of die-cast aluminum, which combines durability and lightness.
It is convenient when it comes to jams, due to the tool-free quick-release latch; it allows you easy access for removing jams without having to go deep into the nailer for taking it apart.
However, jams themselves aren't convenient. The PFBC940 jams quite often, and even the quick-release latch cannot take away from the trouble of having to deal with jams.
The PFBC940 is air-powered. It allows firing depth adjusting, 4-in-1 18-gauge 1-5/8″, and reload indicator. Also, it provides angled flooring attachment; it allows you to use the brad nailer as a flooring nailer and stapler.
Moreover, the PFBC940 is considered one of the best pin nailers for a home workshop because of how many functionalities it allows.
Despite it having an adjustable nail depth, it is not very consistent. Also, sometimes, the nails will get bent. However, it is considered a great nailer for the money.
Pros
4-in-1 functionalities.

Durable and lightweight
Cons
Bottom Line:
The PFBC940 can be used in multiple situations: flooring, roofing, siding, and finishing. Its lightweight and durability make it a reliable gum. However, you have to be careful and keep an eye out when it comes to jamming.
READ NEXT: Finish Nailer
---
4. Ryobi P320 Cordless Nailer
---
The Ryobi P320 is one of the most convenient nailers; it can fire up to 1700 nails without recharging. Also, it is cordless. These two factors add up together to make the P320 one of the best brad nailers for if you're moving too much, and you cannot afford to be bothered by a cord. Besides, it doesn't need a compressor, hoses, and it saves you the cost of gas.
Keeping up with the convenience theme, the P320 comes with LED lights and a belt clip in order to carry it around easily. It can be used for installing roof tiles, reinforcing joints, and anything in between. Also, it provides a low-nail indicator.
The nail depth is adjustable. It works well with any straight 18 gauge 5/8″ to 2″ nails.
It uses a Lithium-Ion battery. However, batteries are not included, so you'd need to make a separate purchase if you don't have one lying around your home. Purchasing a battery and a charger is not very affordable, so that adds up to the cost of the nailer.
Pros
Cordless.

Up to 1700 nails on one charge.
Cons
Bottom Line:
The P320 is exceptionally convenient, it is cordless, it has LED lights, and one charge can last you a long time. However, if you don't have a Lithium Battery, you'd have to purchase one along with a charger.
It works well for a variety of tasks, from installing roof tiles to casing, molding, and reinforcing joints.
READ NEXT: Cordless Framing Nailer
---
5. Neu Master NTC0040 Electric Nail Gun/Staple Gun
---
The Neu Master NTC0040 is a portable Nail/Staple gun as it doesn't need a compressor, nor does it need hoses. The NTC0040 also provides adjustable power; you can set the power to suit the material you're working with at the time.
Adding to its convenience, it allows Easy Jam Clear, meaning it is easy to clear any possible jamming in a few simple steps.
It allows using nails of sizes 1/4" crown staple 5/16″ to 5/8″ and 18 gauge, 5/8" to 1-1/4" brad nail. Besides, it is considered a safe product as the gun only activates when the trigger is fully pressed.
Despite it being an electricity-powered product, it is not cordless, meaning it doesn't run on batteries, and it has to be plugged into a source when in use.
The NTC0040 works well with upholstery, wooden handiwork, and home improvement. It has a good grip, and it is not too heavy; you could work with it all day long just fine. Besides, it is easy to use and load.
Pros
One of the best for DIY projects.

Electricity-powered.
Cons
Sometimes the nails don't go all the way in.
Bottom Line:
At the end of the day, an electric gun is an electric gun; you can't expect it to have as much power as an air-powered gun would. However, that makes it more convenient when it comes to smaller projects or soft material. It is compact, easy to use, and has a comfortable grip.
READ NEXT: Flooring Nailer
---
6. Craftsman C3 Nailer
---
The Craftsman C3 offers two options to use: a single sequential mode and a contact mode.
The C3 is battery-powered, meaning you wouldn't have to deal with the hassle of compressors and hoses. On the other hand, you would have to deal with the hassle of recharging it. Besides, it comes with two LED lights and a low-nail indicator that warns you when you'll have to reload soon. The C3 also offers an adjustable depth of drive.
Besides having to deal with recharging the battery, you'd have to deal with getting one. The Battery and charger are not included, and you'd have to purchase them yourself. Like mentioned before, those can be costly.
It is cordless so that you can move around with it. Besides, it allows you to get into smaller areas, and with the help of LED lights, it is an excellent gun for smaller-sized projects.
The C3 allows using 5/8"-2" and 18 gauge band nails accurately and quickly. On the other hand, it is a little heavy, but it is still very easy to use.
The battery can last you a few hours, and it recharges quickly (about one hour), so a battery-powered gun is a great option if you're not in a rush, and if you like having the freedom to move around.
Pros
Cordless and easy to use.

Lightweight but powerful.
Cons
Can leave dents on softer materials.
Bottom Line:
The C3 is a great battery-powered gun; it is lightweight, it is powerful, and it can be used in various projects. However, be careful when using it on softwoods as it can leave dents. It is easy to avoid denting with a little getting used to it.
Also, it does not come with a battery, so you'd have to purchase one yourself, and that'll add to the total amount you'd have to pay in order to use the C3.
READ NEXT: Roofing Nailer
---
7. DeWalt DC618K XRP Angled Finish Nailer Kit
---
The DeWalt DC618K also allows two operating modes: sequential and bump. The sequential mode is for precision, while the bump mode is for speed.
The DC618K is another cordless gun. It saves you from having to deal with compressors and hoses. It comes with LED lights, and it allows easy access to fix any jamming without having to use any additional tools.
The DC618K rear-load magazine capacity goes up to 120 nails, and it accepts most 20-degree angled finish nails. In addition, it is a safe product; it disables the trigger when not in use.
It is durable, easy to troubleshoot, and powerful. It works on both soft and hard materials.
Also, when combining it with the LED lights and that is it compact, it is a great gun to be used for smaller areas.
The DC618K allows 16 gauge nails from 1-1/4" to 2-1/2" while still working quickly (up to five nails per second). Also, a battery is included.
The DC618K can fire nails through softwood, hardwood, and plywood, and other sheet goods. It's an ideal tool for trim carpenters, cabinetmakers, and others who routinely install baseboard, shoe, crown, and chair rail molding, paneling, hardwood flooring, staircases, and window and door casings and jambs.
Pros
A sequential mode for precision and a bump mode for high-speed.

Durable and works for various projects.
Cons
Uncomfortable to use for extended periods of time.
Bottom Line:
The DC618K is another convenient gun; it provides two modes, is it cordless, and it comes with a battery. However, it can get quite uncomfortable when using for longer periods of time.
READ NEXT: Electric Brad Nailer
How to Choose a Pin Nailer?
Like any other power tool, there are some important aspects to consider when you're shopping for a pin nailer, and these are as follows:
Length of Fastener
The more pin lengths your nailer can accept, the more versatile it's going to be, so you want to aim for that. A minimum of half an inch to one inch is a good range. But if your tool can manage 3/8 of an inch to two inches, that's a real winner.
Magazine Capacity
If your nailer's magazine capacity, you'll often have to stop and reload pins. That's why you shouldn't settle for less than 100 micro pins before a recharge. Moreover, it's better to get a tool with a magazine status indicator so that you're always aware of how many nails you've got left to work with.
Exhaust
With every firing of a nail, pin nailers exhaust oil and air. The air exhaust should be adjustable or pointed away from the user in order to keep them safe as well as keep the working area clear and visible.
Depth Adjustment and Control
Different materials come with varying thicknesses and densities, and that's why depth adjustment is a vital feature. As an alternative, you can get an air compressor with an adjustable PSI level –that is, if you get a pneumatic pin nailer.
Durability and Warranty
Last but not least, the brand you trust should be reputable and make tools with solid build constructions such as aluminum. Moreover, a manufacturer's warranty of at least one year should be applicable to the unit.
What are the Uses of a Pin Nailer?
Pin nailers are typically used in cases where you'd use glue to join two pieces of lightweight wood together.
Their pins don't have heads, so they're more or less invisible once you've painted or treated them.
That's why they're used when you want to do trim work with invisible affixing.
They're a bit similar to brad nailers, in fact, but whether you choose a pin one or not depends on your taste and preferences in terms of how the final piece of work would look like.
Brad nailers have their heads visible, and that's why pin ones are better when you want to do delicate affixing where little to no finish work is required.
Final Thoughts
Although it's hard to decide which of the above-mentioned choices is the best pin nailer, by and large, there are a couple that excels in more areas than others.
Take the Freeman PFBC940 Pneumatic Flooring Nailer and Stapler, for example. It's a great choice if you're looking for something super versatile and will add real value to your workshop. It also comes at an affordable price that makes it a real bang for your buck. Finally, it's also pretty lightweight, so it's easy to maneuver.
If you're looking for a work beast, I'd recommend the Ryobi P320 Cordless Nailer. This one can fire up to 1700 nails on a single charge! And the best part is that it's not even one of the pricey options on the list.